The Longmont Sprinkler Repair Experts!

Sprinkler repairs are never something that you want to be forced to think about because that would mean that something has gone terribly wrong with your system. Either a pop up head has blown or an underground leak has left a pond where your yard should be. Our Longmont sprinkler repair team wants to get you on the right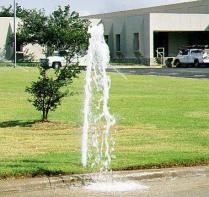 track so that these issues never hit you by surprise. Our staff specializes in preventative maintenance and keeping your system running at its peak throughout the summer months.

Our Longmont sprinkler repair team starts with an initial water usage and sprinkler coverage audit to make sure your system is delivering the correct amount of irrigation to every zone of your yard. Once that is completed we do a point by point system check starting at the controller and working through each pop up head and drip line individually to uncover potential problems. This evaluation will include cleaning out the area around each sprinkler head to make sure it is working properly.
Get a Complete System Evaluation

When our techs have completed your system evaluation, we will give you our expert opinion on what needs to be done to optimize your system to save you money on your monthly water bill while still ensuring that your lawn looks like a million bucks. We will then draft a preliminary work order that will give specific estimates for each service we expect to provide. You are under no obligation to enlist each of our services, if you wish you can just do the essentials and wait to optimize your system until a later date.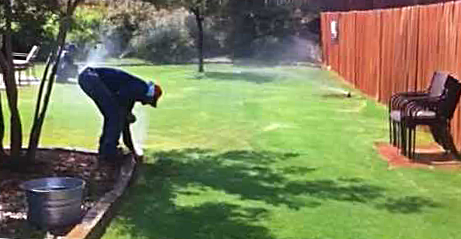 Our no pressure approach is just one of the reasons that you should seriously consider using our Longmont sprinkler repair service. Another reason is that we have the most skilled contractors in the area working for our team. We've been doing sprinkler repairs almost as long as sprinkler systems have been a fixture in Longmont. In fact, we installed some of the first residential sprinkler systems in the area.

---
100% Satisfaction Guarantee

Our service also comes with a 100% service satisfaction guarantee. If you aren't completely satisfied with the results of our service we will come back and tweak it until it's to your expectations. We are more interested in making you a return customer than making a quick buck on a sub standard service. Give our Longmont sprinkler repair team a call today and see the difference a real professional service can make.

Looking for help with your Longmont plumbing needs? Whether it's a quick emergency, a weekend repair, or an installation that's been months in the waiting, we've got the Longmont plumbing team for you.
For service south of Denver, visit Littleton sprinkler Repair.